In web hosting, especially for the popular content management system WordPress, two types dominate the discussion: Managed WordPress Hosting and Shared WordPress Hosting. Each has its merits, and understanding the intricacies will guide you in making the most appropriate choice for your website needs.
Understanding the Significance of WordPress
Before we delve into the hosting specifics, it's vital to acknowledge the behemoth that WordPress has become in the digital world. Its extensive theme and plugin ecosystem powers a substantial fraction of websites globally. But with great power comes great responsibility: choosing the right hosting can be the difference between a sluggish site and a swift one.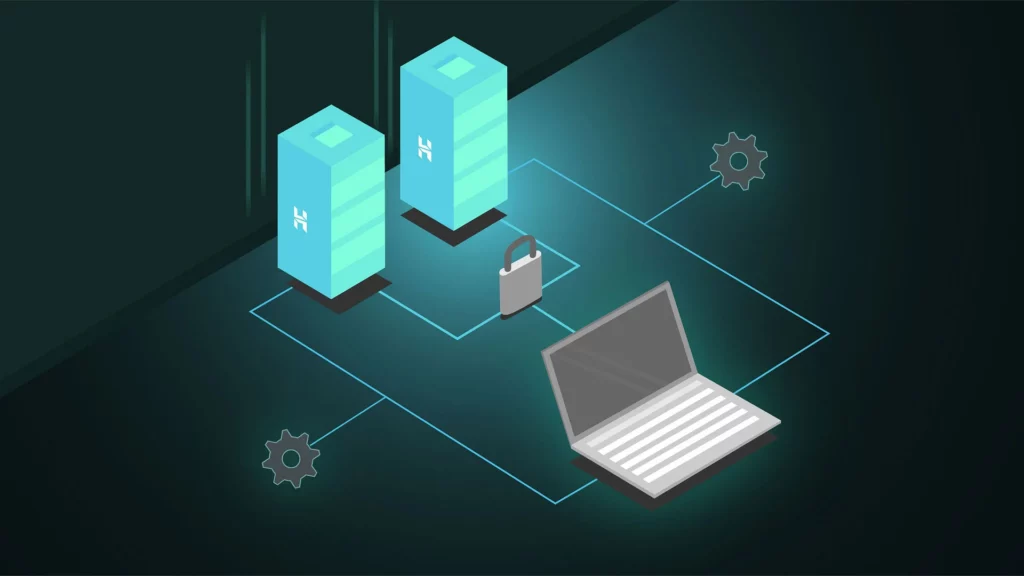 Managed WordPress Hosting Explained
Definition: Managed WordPress Hosting is a premium hosting environment specifically designed and optimized for WordPress websites.
Pros:
High-Speed Performance: With servers fine-tuned for WordPress, expect faster loading times and reduced downtime.
Robust Security: Regular malware scans, SSL certificates, and firewalls tailored for WordPress vulnerabilities keep your site secure.
Nightly Backups: Automated backups ensure a safety net in unforeseen events.
Stellar Support: Dedicated WordPress experts are at your beck and call, ensuring swift issue resolution.
Cons:
Higher Costs: Premium features come at a premium price.
Plugin Restrictions: Some plugins might not be allowed if incompatible with the host's environment.
Less Control: Being a managed environment, there needs to be more direct control over server settings.
Shared WordPress Hosting Explained
Definition: Shared WordPress Hosting involves multiple websites, including non-WordPress sites, sharing the resources of a single server.
Pros:
Cost-Efficient: Ideal for starters or those with budget constraints.
Beginner-Friendly: Comes with cPanel or other user-friendly platforms, making website management a breeze.
Versatility: Fewer restrictions mean more freedom in terms of plugins and themes.
Cons:
Inconsistent Performance: Resource sharing can lead to performance dips during peak times.
Standardized Security: While security measures exist, they're not WordPress-specific, leading to potential vulnerabilities.
Limited Resources: The shared nature means there's always a cap on your website's growth potential.
The Best 10 Types of Web Hosting for Small Businesses and eCommerce
Deeper into Managed WordPress Hosting
Automatic Updates: Ensuring up-to-date WordPress core, themes, and plugins can be a chore. Managed WordPress Hosting takes this off your plate, automating the process.
Traffic Handling: Managed hosting environments can handle traffic spikes gracefully, ensuring your site remains live even when faced with sudden influxes.
Development Tools: Many providers offer staging sites, allowing you to test changes without affecting the live site.
Shared WordPress Hosting Extended
Shared Resources: It's not just server space. CPU, memory, and other resources are shared, sometimes leading to resource limitations.
Multiple Sites: If you run more than one website, many shared hosting providers allow various sites on a single plan.
Email Hosting: Many shared hosting packages come bundled with email hosting, simplifying domain-based email setups.
Top 10 Best Managed WordPress Hosting Providers List
In today's digital era, where WordPress reigns supreme as the leading content management system, there's an escalating demand for tailor-made hosting solutions. Enter Hostinger's managed WordPress hosting – a refined blend of power, optimization, and dedicated resources.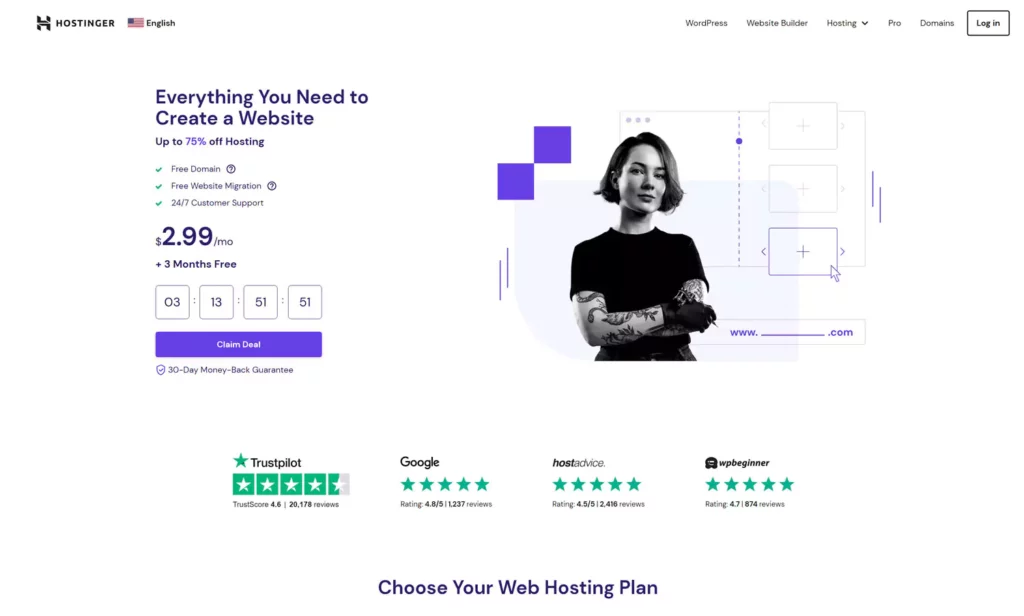 1. Origins and Evolution:
A Glimpse into History: Hostinger, founded in 2004, embarked on a journey to provide user-centric hosting solutions. Recognizing the global preference for WordPress, Hostinger's managed WordPress hosting emerged as a flagship service, attending to the nuances of this prominent platform.
2. Why Managed WordPress Hosting?
Tailored Environment: Hostinger's managed WordPress hosting provides an optimized environment for WordPress. This ensures that installations, updates, and site maintenance become streamlined.
Boosted Performance: Their hosting infrastructure is crafted to deliver enhanced speed and responsiveness, maximizing site performance.
3. Security at Its Best:
Fortified Defenses: With WordPress hosting, Hostinger brings advanced security measures, ensuring that WordPress-specific vulnerabilities are diligently guarded against.
Regular Backups: The hosting ensures automated daily backups, allowing users to restore their sites to any point quickly.
4. Developer-Centric Features:
Seamless Workflow: Developers find solace in Hostinger's WordPress hosting, thanks to tools that ensure efficient workflows, including staging environments and GIT integration.
Bespoke Controls: While WordPress is the focal point, developers can employ a range of programming languages, databases, and other customizable elements.
5. Effortless Scaling:
Growth-ready: Understanding that websites grow and evolve, Hostinger's managed WordPress hosting offers easy scalability. As traffic surges, upgrading resources is a hassle-free experience.
6. Dedicated Support:
WordPress Gurus: The support team behind Hostinger's managed hosting isn't just technically proficient. They are WordPress experts. Whether troubleshooting or seeking best practices, users receive guidance rooted in vast WordPress expertise.
Since its inception, Bluehost has been a beacon in the vast expanse of web hosting providers. Here's an analytical gaze into its vast array of services and offerings: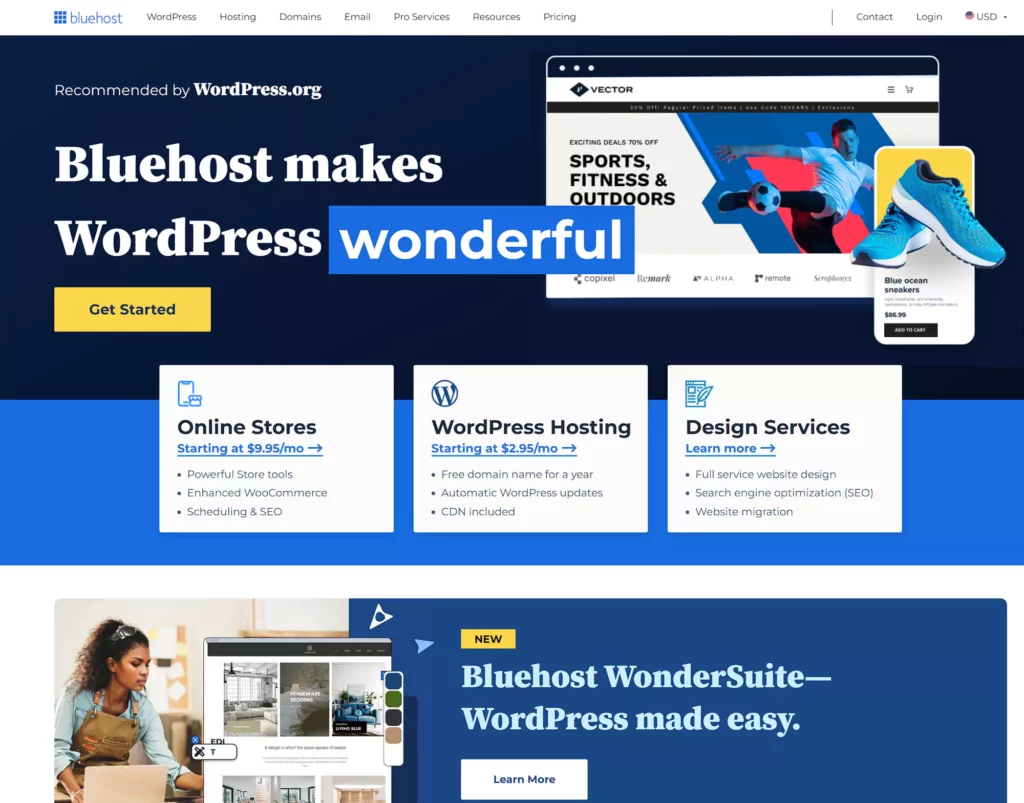 1. Genesis and Evolution:
Humble Beginnings: In 2003, Bluehost embarked on a mission to offer unparalleled hosting solutions, quickly rising to prominence and setting industry standards.
2. Hosting Services:
Shared Hosting: Recognized for its affordability and user-friendliness, Bluehost's shared hosting caters to novices and seasoned webmasters.
VPS Hosting: Bluehost's VPS solutions offer an ideal balance for those needing dedicated resources without the cost of an entire server.
Dedicated Servers: Catering to high-traffic sites and large businesses, these servers provide power and customizability.
Specialized WordPress Plans: Bluehost has fine-tuned servers and services explicitly tailored for WordPress users, ensuring optimum performance and ease of use.
3. Domain Solutions:
Registrar Services: From securing your desired domain to managing and transferring it, Bluehost offers a seamless experience.
Domain Privacy: With identity protection services, Bluehost ensures that your details remain shielded from prying eyes.
4. Site Building Tools:
Website Builder: Offering a drag-and-drop interface, crafting a site becomes intuitive, requiring no coding skills.
5. Safety and Security:
Protection Protocols: Bluehost deploys a range of security measures, from SSL certificates for encrypted data transfers to SiteLock, which offers protection against malware.
Regular Backups: Daily, weekly, and monthly backups ensure you can restore your site's data whenever necessary.
6. For the Tech-Savvy:
Developer Tools: Bluehost's hosting environment is rich with features catering to developers' needs, from databases like MySQL to programming languages like PHP.
7. Customer Service:
Around-the-Clock Assistance: Recognizing that issues can arise anytime, Bluehost's support, available via chat, email, and phone, ensures you're never left in the lurch.
Founded in 2004, SiteGround has rapidly grown from its modest beginnings to become a formidable force in web hosting. Their relentless pursuit of excellence in performance, security, and customer service has made them a top choice for many.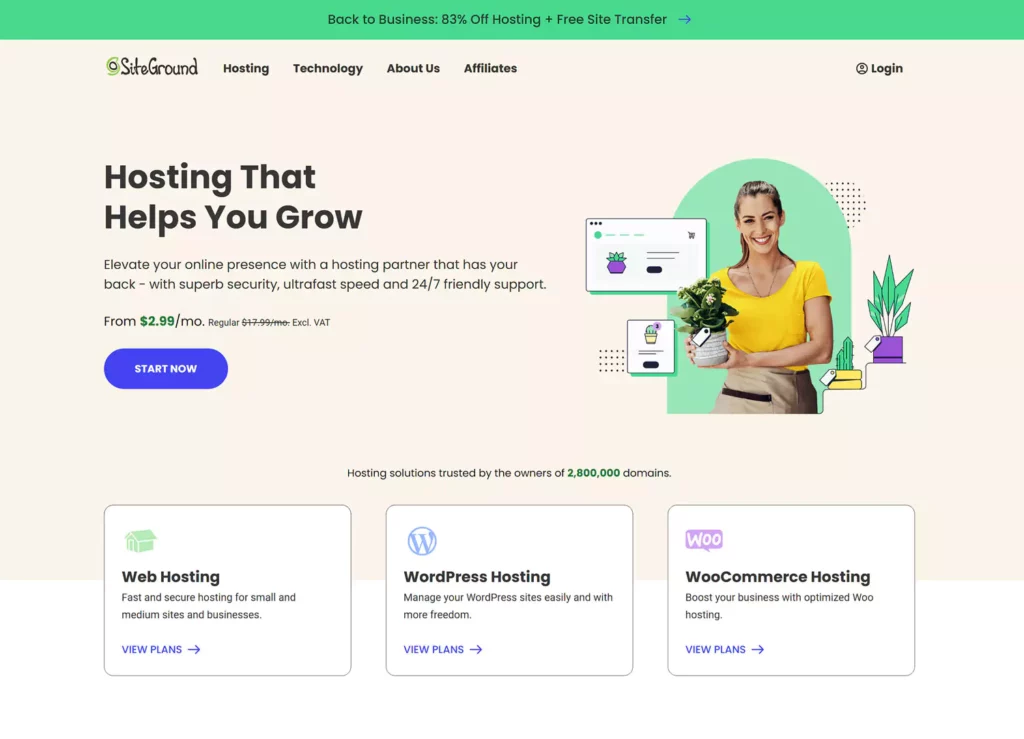 1. Foundation and Reach:
Origin: Founded in 2004 in Sofia, Bulgaria, SiteGround has grown to host over 2 million domains globally.
Data Centers: SiteGround ensures global coverage with data centers in the USA, Europe, and Asia, ensuring optimal site speed and reliability based on geographical targeting.
2. Web Hosting Features:
Storage: Depending on the chosen plan, users get 10GB to 40GB of web space. Ideal for 10,000 to 100,000 monthly visits, respectively.
Technology: Utilizes cutting-edge platforms like Apache, NGINX, and CentOS to deliver optimum speed and performance.
3. WordPress Integration:
SG Optimizer: A proprietary WordPress plugin that provides caching, image optimization, and many other tools to make WordPress sites run faster.
Auto-updates: Automatic updates to the latest WordPress version to ensure security and performance are always up-to-date.
4. Security Measures:
Daily Backups: SiteGround provides free daily backups and restores points for the last 30 days to protect users' data.
Custom Security Patching: Their team proactively patches vulnerabilities at the server level, ensuring all accounts on their servers are protected.
Web Application Firewall (WAF): A constantly updated firewall to prevent potential security threats.
5. E-Commerce Features:
WooCommerce Hosting: Specific plans tailored for e-commerce sites using WooCommerce, ensuring optimal shop performance.
Free Shopping Cart Install: Helps in quickly setting up online stores.
6. Developer Tools:
cPanel Access: A user-friendly cPanel interface for managing hosting features, databases, and more.
Unlimited Databases: Even the StartUp plan offers unlimited DBs, which benefits developers running multiple projects.
7. Email Services:
Mailbox Features: Depending on the plan, users can access 2GB to 4GB mailbox storage and manage their emails via Webmail or integrate with third-party clients.
8. Customer Support:
Response Time: SiteGround boasts a 10-minute response time on their ticket-based support system.
Knowledge Base: An expansive help center with tutorials, guides, and answers to frequently asked questions.
9. Pricing and Plans:
Transparency: No hidden fees upon sign-up or renewal. Their shared hosting ranges from an introductory price of $3.99/month for the StartUp plan to $10.69/month for the GoGeek plan.
10. Environmental Commitment:
Green Initiatives: SiteGround partners with various organizations to offset their carbon footprint, ensuring a commitment to sustainability.
WP Engine is a leader in the managed WordPress hosting landscape. Their approach is about hosting and providing a comprehensive WordPress experience. Let's dissect what WP Engine offers: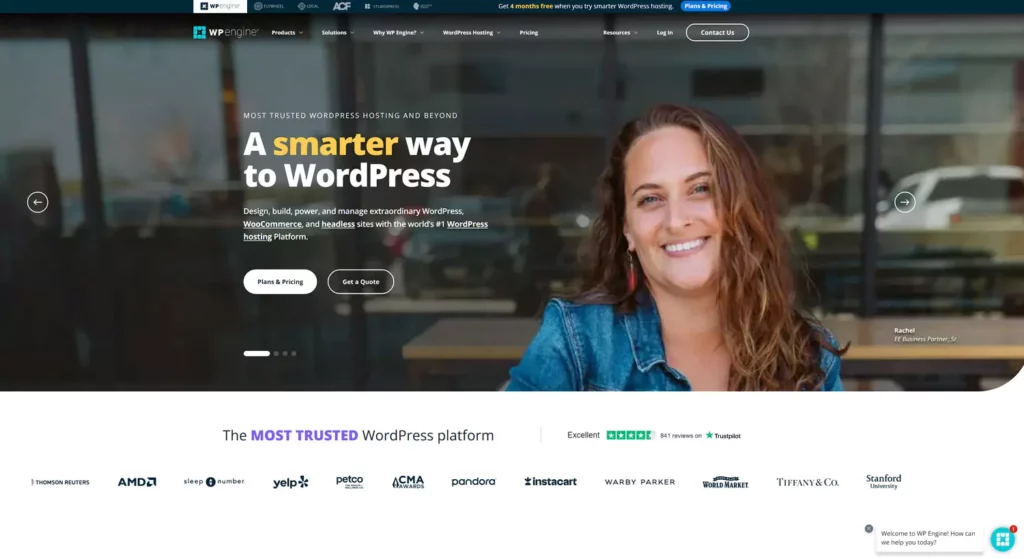 1. Company Overview:
Established: Founded in 2010, WP Engine has a decade of experience tailoring services specifically for WordPress.
Global Presence: With offices in cities like Austin, San Antonio, San Francisco, and London, WP Engine has a broad operational footprint.
2. Hosting Infrastructure:
Technology Stack: WP Engine leverages a combination of the best-in-class tech, including NGINX, PHP 7, CDN, and object caching, to ensure blazing-fast site performance.
Data Centers: With data centers across North America, Europe, Asia, and Australia, customers can choose a location best suited to their audience for optimal site speeds.
3. Security Provisions:
Threat Defense: WP Engine offers real-time threat detection, free SSL certificates, and daily backups.
Disaster Recovery: Should anything go amiss, they guarantee quick recovery options to get sites back up and running quickly.
4. Developer Tools:
Git Integration: Developers can enjoy Git version control to manage and deploy WordPress themes and plugins.
Staging Environments: WP Engine provides dedicated staging areas to test changes, ensuring live sites remain unaffected during updates or overhauls.
5. Performance Metrics:
Page Performance: They offer real-time data on web pages' performance, allowing users to tweak and optimize accordingly.
Content Delivery Network (CDN): WP Engine includes CDN with its plans, ensuring content gets delivered to site visitors rapidly irrespective of their global location.
6. Dedicated WordPress Features:
Auto Migration: Migrating a WordPress site to WP Engine is a breeze with its automated migration tools.
WP Core Updates: Automatic WordPress updates ensure that sites are always running the latest, most secure version of WordPress.
7. Support and Assistance:
24/7/365 Support: WP Engine's team of WordPress experts is available round the clock to assist with any issues or queries.
Extensive Resources: Their online resource center is teeming with helpful guides, tutorials, and whitepapers.
8. Scalability and Growth:
EverCache: WP Engine's proprietary caching system ensures sites can handle large traffic spikes without hiccups.
Plan Variety: From startups to large enterprises, WP Engine offers a range of plans to cater to varying needs.
9. E-Commerce Capabilities:
WooCommerce Ready: Recognizing the importance of e-commerce, WP Engine's infrastructure is optimized to run WooCommerce smoothly, ensuring online stores perform efficiently.
A household name in the domain registration and web hosting universe, GoDaddy has continuously expanded its offerings since its inception. Here's a comprehensive look at this industry giant: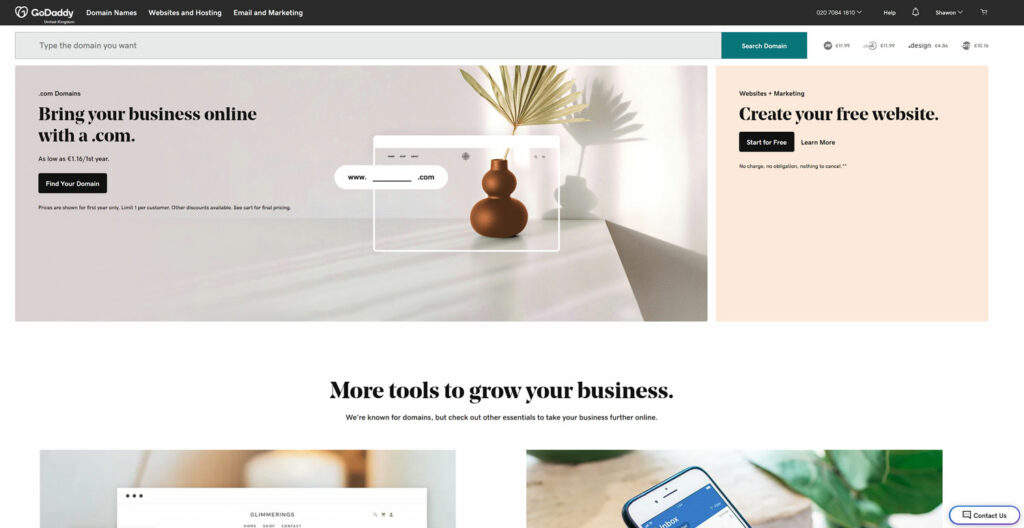 1. Roots and Growth:
Genesis: Established in 1997, GoDaddy started its journey as a domain registrar and quickly catapulted to prominence due to its aggressive marketing and expansive service roster.
Market Presence: Today, with over 20 million customers, GoDaddy is the world's largest domain registrar.
2. Diverse Hosting Solutions:
Shared Hosting: Catering mainly to beginners, GoDaddy's shared hosting is known for its affordability and user-friendly tools.
VPS and Dedicated Servers: GoDaddy offers more robust solutions with dedicated resources for businesses and sites expecting higher traffic.
WordPress Hosting: Acknowledging the global popularity of WordPress, GoDaddy offers optimized hosting plans tailored for the platform.
3. Domain Services:
Broad Directory: GoDaddy boasts an extensive selection of domain names and offers a myriad of domain extensions.
Domain Extras: Beyond just registration, services like domain transfers, domain privacy protection, and even domain brokerage through their Domain Buy Service are available.
4. Site Building and Design:
Website + Marketing: This is GoDaddy's in-house website builder that integrates marketing tools. It's designed for those who want a drag-and-drop experience with the added advantage of built-in marketing functionalities.
Professional Web Services: GoDaddy offers a service where their team will design, create, and maintain a business website, ideal for those who want a hands-off approach.
5. Security and Backup:
SSL Certificates: To ensure the security of data transfers, GoDaddy offers various SSL certificate options.
Website Backup: With automated daily backups and accessible restore functionalities, GoDaddy ensures data is safeguarded against potential losses.
Website Security: Comprehensive solutions that include malware scanning, firewall protection, and DDoS protection are available.
6. Digital Marketing and SEO:
SEO Services: GoDaddy offers tools and services that help businesses rank better on search engines.
Email Marketing: Integrated tools are available for businesses to craft and send compelling emails to their subscriber base.
7. E-commerce Capabilities:
Online Store: GoDaddy's e-commerce solution allows businesses to set up online stores with integrated product listings, shopping carts, and payment gateways.
8. Customer Support:
24/7 Assistance: Renowned for its round-the-clock customer service, GoDaddy ensures that help is always available. Their extensive knowledge base and chat and phone support are designed to address issues promptly.
Emerging as a prominent figure in the web hosting domain, DreamHost has cemented its status through years of dedicated service and innovation. Here's a comprehensive examination of what DreamHost brings to the table: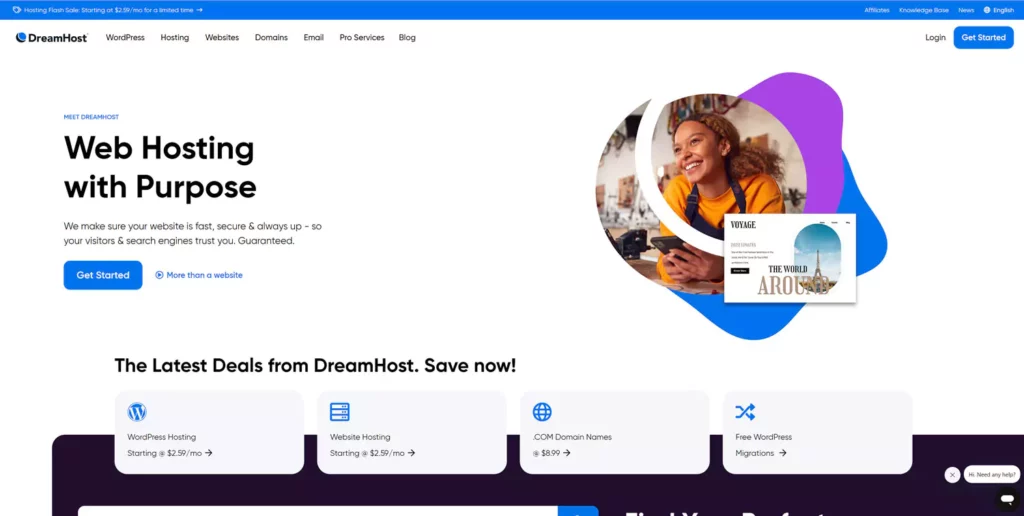 1. Foundational Backdrop:
Origin Story: Established in 1996 by four college friends, DreamHost's journey started in a college dormitory and grew exponentially to become one of the hosting industry's stalwarts.
Sustained Growth: DreamHost's presence is undeniably significant, with over 400,000 active customers and hosting over 1.5 million sites.
2. Diverse Hosting Palette:
Shared Hosting: Aimed primarily at beginners and smaller websites, DreamHost's shared hosting solutions blend affordability with performance.
VPS Hosting: Offering dedicated resources, their VPS services cater to growing websites with increasing traffic demands.
Dedicated Servers: For large-scale websites and businesses, DreamHost's dedicated servers promise power and autonomy.
Cloud Hosting: DreamHost provides scalable cloud solutions known as DreamCompute (for computing needs) and Dream Objects (for storage solutions).
3. WordPress Integration:
Managed WordPress Hosting: Known as "DreamPress," this solution provides an optimized environment for WordPress websites, ensuring performance tweaks and easier management.
One-Click Installs: This feature allows users to effortlessly set up WordPress and other platforms without the technical intricacies.
4. Domain Solutions:
Registry Services: DreamHost provides a wide range of domain extensions, ensuring businesses and individuals can find the perfect domain name for their online presence.
Domain Privacy: DreamHost offers complimentary WHOIS Domain Privacy, ensuring user details are shielded from public view.
5. Security Aspects:
Free SSL: Automated SSL certificates via Let's Encrypt ensure encrypted connections for all domains hosted with DreamHost.
Backup Services: Automated backups safeguard website data against potential losses or accidental deletions.
6. Developer-Centric Offerings:
Advanced Controls: DreamHost offers full shell access, support for multiple programming languages (like PHP, Perl, and Python), and raw access log files, making it a haven for developers.
Control Panel: Unlike many other hosts, DreamHost offers a custom-built control panel, ensuring a unique user experience when managing hosting features.
7. Commitment to Sustainability:
Green Hosting: DreamHost emphasizes its eco-friendly initiatives, including advanced cooling infrastructure and energy efficiency. Their data centers are optimized for power savings, highlighting their commitment to environmentally responsible hosting.
8. Customer Support Network:
24/7 Assistance: Available round-the-clock, DreamHost's support team is ready to address any issues or inquiries. Their knowledge base, ticket-based support, and live chat options ensure users receive timely assistance.
In the vibrant domain of cloud-based web hosting, Cloudways stands apart, renowned for its comprehensive and user-friendly offerings. Particularly distinguished for its Managed WordPress Hosting, Cloudways bridges the gap between robust performance and ease of management. Here's an analytical dive into its myriad of services: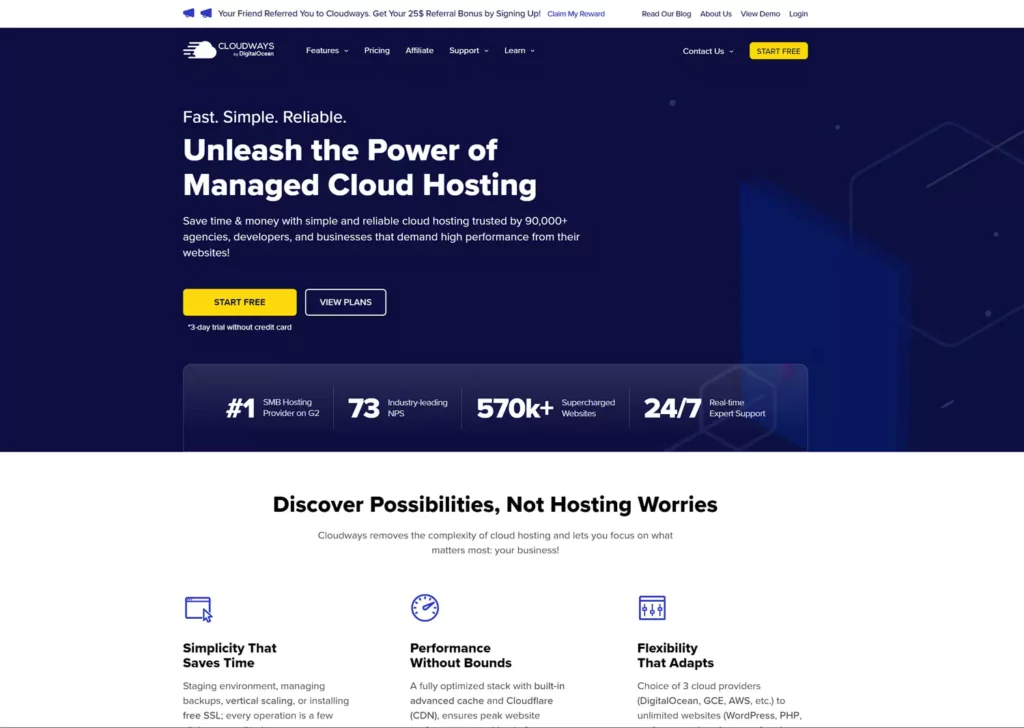 1. Company Footprint:
The Inception: Founded to simplify cloud hosting, Cloudways has become synonymous with hassle-free managed hosting experiences, especially its stellar Managed WordPress Hosting.
2. Platform Diversity:
Multiple Cloud Providers: Cloudways isn't tied to a single infrastructure provider. They offer users the choice to host on several leading cloud services, including DigitalOcean, Linode, AWS, Google Cloud, and Vultr.
3. Hosting Offerings:
Managed WordPress Hosting: Designed for ease and performance, Cloudways' Managed WordPress Hosting offers features like auto-healing, built-in caches, and staging environment, ensuring WordPress sites run at their peak.
Other Applications: Beyond Managed WordPress Hosting, Cloudways also supports other popular web applications, ensuring versatility for various website needs.
4. Performance-Driven Architecture:
Advanced Caching: Integrated caching mechanisms, such as Varnish, Memcached, and Redis, ensure rapid content delivery and swift website loading times.
CDN Integration: Cloudways CDN, their proprietary content delivery network, aids in loading websites quickly for users globally.
5. Security Measures:
Robust Protocols: Cloudways takes security seriously. Their stack includes dedicated firewalls, regular security patching, two-factor authentication, and automated backups.
SSL Installation: Free Let's Encrypt SSL certificates can be swiftly installed, ensuring encrypted data transfer.
6. Developer Features:
Staging Areas: Developers can safely test their sites and applications in isolated staging areas before making changes live.
Seamless Collaboration: Tools like Git integration and team collaboration features make it easier for developers to work collectively on projects.
7. Elastic Scalability:
Vertical Scaling: Understanding that websites may grow and experience traffic surges, Cloudways offers easy vertical scaling to increase server resources without affecting uptime.
8. Support and Knowledge Base:
24/7 Customer Support: With an expert team available round-the-clock, Cloudways ensures that queries, whether related to "Managed WordPress Hosting" or other facets, are addressed promptly. Rich Resources: An expansive online knowledge base with tutorials, guides, and webinars ensures users can easily navigate the platform's features.
In the sprawling landscape of web hosting providers, IONOS, formerly known as 1&1, stands out with its decadent offerings tailored to diverse needs. With specific emphasis on Managed WordPress Hosting and Shared WordPress Hosting, IONOS promises both performance and scalability for WordPress enthusiasts.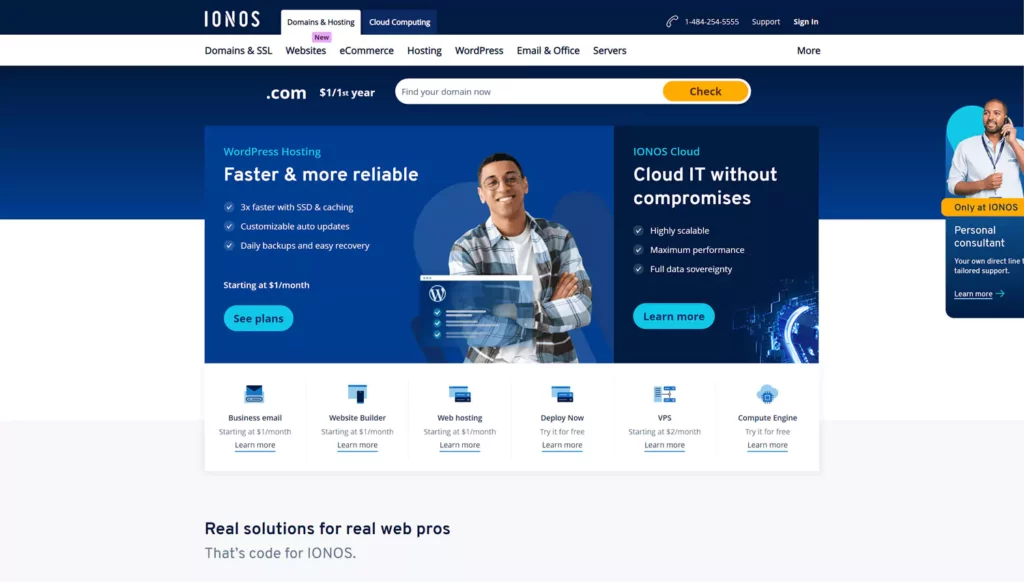 1. Company Snapshot:
Legacy: Originating in Europe and with decades of experience, IONOS has expanded its reach globally, resonating with its commitment to top-notch hosting solutions, including Managed WordPress Hosting.
2. Hosting Variants:
Managed WordPress Hosting: IONOS's Managed WordPress Hosting solution emphasizes hands-off convenience for users. Automatic updates, daily backups, and enhanced security features ensure a seamless WordPress experience.
Shared WordPress Hosting: For those on a budget or just starting, IONOS's Shared WordPress Hosting offers an optimal blend of affordability and performance. It's an ideal gateway for newcomers to the world of WordPress.
3. Performance Metrics:
Infrastructure: With a focus on speed, the backbone of Managed WordPress Hosting and Shared WordPress Hosting at IONOS is fortified with SSD storage, state-of-the-art data centers, and advanced caching solutions.
4. Security Essentials:
Robust Shields: Irrespective of whether you opt for Managed WordPress Hosting or Shared WordPress Hosting, IONOS prioritizes security. With proactive malware protection, DDoS defenses, and SSL certificates, sites remain shielded from potential threats.
5. Ease of Use:
One-Click Install: IONOS ensures that setting up a WordPress site, whether on Managed WordPress Hosting or Shared WordPress Hosting, is hassle-free with their one-click installation feature.
6. Scalability Path:
Transition Ease: IONOS recognizes that as websites grow, their needs evolve. Transitioning from Shared WordPress Hosting to Managed WordPress Hosting is streamlined, ensuring businesses can scale without hiccups.
7. Customer Support:
Expert Assistance: IONOS boasts a team explicitly trained in WordPress intricacies, ensuring that queries, whether related to Managed WordPress Hosting or Shared WordPress Hosting, are addressed promptly and expertly.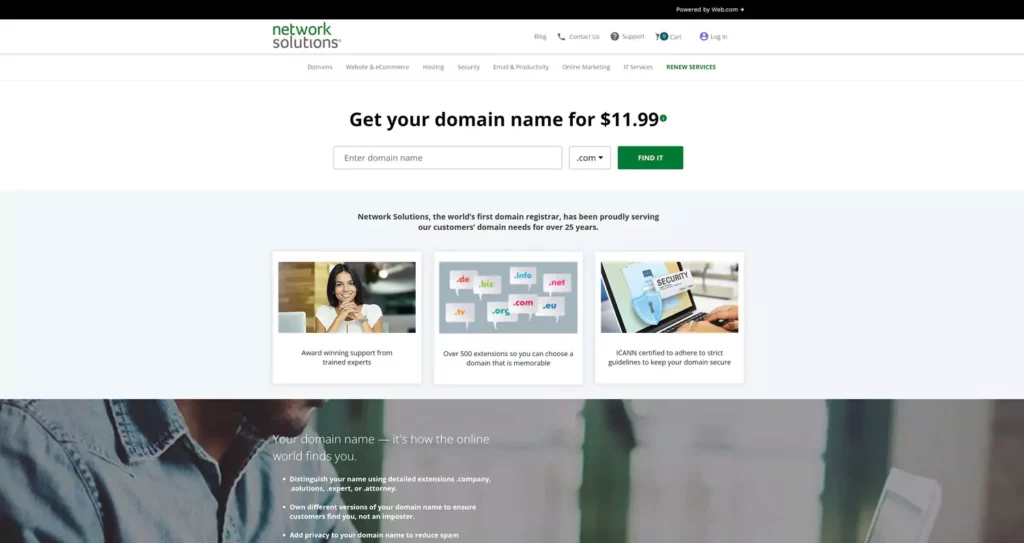 Pioneering Roots Network Solutions was one of the original domain name registrars, with its history stretching back to 1979. This gives them over four decades of experience in the domain and hosting industry.
1. Domain Management:
Extensive Domain Services: As a central domain registrar, they offer many domain-related services, such as domain registration, transfers, renewals, and even premium domain acquisition.
Domain Protection: They offer services like WHOIS privacy protection, ensuring the personal details of domain owners aren't publicly accessible.
2. Hosting Services:
Variety: Network Solutions offers various hosting services, including shared hosting, VPS, and dedicated hosting.
Uptime: Recognizing the importance of site reliability, they guarantee 99.99% uptime, which is essential for businesses relying on their web presence.
3. Website Solutions:
Website Builder: Their user-friendly website builder caters to those without coding knowledge, offering drag-and-drop functionality and a variety of customizable templates.
Mobile Optimization: Recognizing the increasing mobile traffic, their sites are optimized for mobile viewing, ensuring a seamless experience for all visitors.
4. Security Services:
SSL Certificates: Network Solutions provides a range of SSL certificates to secure websites, enhancing visitor trust and improving site rankings.
Protection: Their hosting packages often include malware scanning and automatic removal, adding an extra layer of safety against potential threats.
5. E-commerce Solutions:
Shopping Cart Integration: They offer integrated e-commerce solutions with features like a customizable shopping cart, inventory management, and secure payment gateway integration.
6. Email Services:
Professional Email Addresses: Businesses can create custom email addresses based on their domain, projecting a professional image.
Features: Their email packages include ample storage, shared calendars, and anti-phishing tools.
7. Support & Customer Service:
24/7 Availability: Network Solutions prides itself on round-the-clock customer service, with a dedicated team ready to address any concerns or queries.
8. Digital Marketing Services:
Search Engine Optimization (SEO): They offer SEO services to help businesses rank better on search engines.Pay-Per-Click (PPC) Management: Network Solutions provides PPC campaign management to optimize ads for maximum ROI for companies looking to advertise
Cost Analysis
Over time, the costs can pile up. While Managed WordPress Hosting may seem pricier upfront, consider the potential charges of a compromised site or one frequently down due to traffic spikes. Conversely, shared hosting might be more economical for areas expecting moderate traffic and growth.
Future-Proofing Your Site
As your site grows, so do its demands. Managed WordPress Hosting offers better scalability options. It's equipped for growth, from handling increased traffic to integrating advanced features. Shared WordPress Hosting, while adequate for starters, might require migration as the site expands.
Decision Time: Weighing Needs vs. Budget
For website owners who can invest more for peace of mind, streamlined performance, and advanced features, Managed WordPress Hosting is worth every penny. For those just starting, with budget constraints, or with sites where top-tier performance isn't critical, Shared WordPress Hosting is a valid choice.
Conclusion:
Managed WordPress Hosting and Shared WordPress Hosting serve different needs and budgets. The differences should be apparent by now, and the decision will come down to where you see your website. Both paths have merits, but your site's needs should guide your choice.